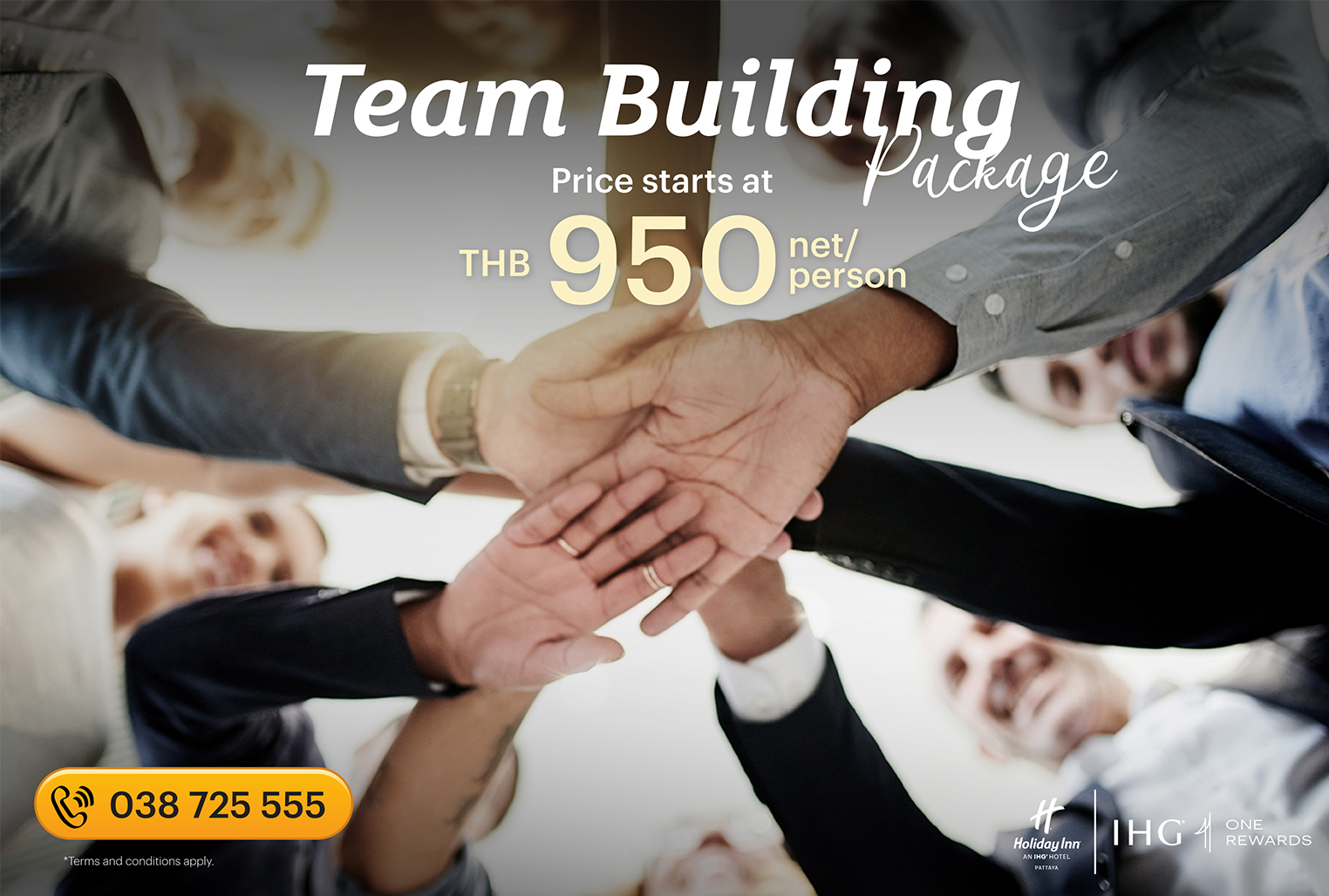 Whether you want to break down the silo walls, open up lines of communication, user in winds of change, or simply reinforce a workplace cultural message. Holiday Inn Pattaya will develop an event specific to your needs, and deliver a program they will talk about, reflect on, and remember for years to come! Let us know your preferred choice programs or develop ones with us. We love the challenge!
Team building package starts from THB 950 net/person
Professional team building expert consultant.

Planning your team building ideas from zero to hero!

Minimum attendees start from 100 persons only!

Package inclusions and pricing may change without prior notice.

Inclusive of 7% VAT and 10% of service charge.
For more information and enquiries, please contact our meeting planners at +66 3872 5555 or email: sales.holidayinnpattaya@ihg.com
Enhancing Workplace Relationships through Team Building Program
Team building is an essential aspect of any successful organization, as it has the potential to improve employee relationships and communication skills, which in turn can enhance overall work performance.
Other than that, effective team building activities can also increase job satisfaction. When employees feel like they are part of a cohesive team, they are more likely to feel fulfilled in their work and enjoy coming to work each day.
For that to happen, it is important to choose a suitable place for fun team building activities to ensure that the right atmosphere is created.
The venue should be conducive to building a positive and supportive environment, where employees feel comfortable participating in activities and interacting with one another.
Why Pattaya is A Best Location for Your Company's Team Building Event
Pattaya is an excellent location for team building activities, as it has a wide range of attractions and activities that are perfect for a team building program.
The beautiful beaches in Pattaya provide an excellent backdrop for beach games and outdoor activities, such as volleyball or water sports.
These activities can help to build teamwork, communication, and problem-solving skills among team members.
In addition to its natural attractions, Pattaya also has many cultural and historical sites that can provide unique opportunities for a team building trip.
The company outing venue in Pattaya can include visiting local temples, museums, and markets which can expose employees to the interesting cultural diversity of Thailand, and help them appreciate different perspectives and ways of working.
Factors to Consider When Choosing a Place for Fun Team Activities In Pattaya

If you are considering to conducting fun company team activities in Pattaya, accommodation is an important aspect to consider.
With comfortable accommodation, it is easier to conduct team building activities while ensuring your employees are having an enjoyable stay.
It is also essential to choose a venue that offers suitable facilities and activities that can help the team building program.
Look into the availability of other facilities such as meeting rooms, conference equipment and audio-visual support for a better experience.
It is also important to choose a venue that provides opportunities for team building activities that are aligned with the goals of your event and fit within the allocated budget.
Holiday Inn Pattaya is an excellent choice for any company event in Pattaya, as we provide all the necessary facilities and amenities for a successful event.
Holiday Inn Pattaya offers meeting rooms equipped with state-of-the-art audio-visual technology, as well as a range of activities including staff parties and celebrations in Pattaya.
Unleash your Team's Potential with Holiday Inn Pattaya's Team Building Package

Other than Team Building Package, Holiday Inn Pattaya also offers a range of event packages that are designed to cater to different needs and preferences, including the Staff Party Package, Theme Staff Party Package, and Weekday Creative Meeting.
By choosing to join one of these packages, your company or organizations can benefit from a variety of activities that promote collaboration, communication, and problem-solving skills among your team members.
These activities can be tailored to the specific needs and goals, ensuring that every team building event is unique and effective.
Start Planning the Trip For Your Team Building Program in Pattaya Now!
Holiday Inn Pattaya's experienced team can provide support and guidance throughout the planning and execution of the event, ensuring that everything runs smoothly and efficiently.
With comfortable and well-appointed accommodation options, participants can relax and recharge in between activities, while enjoying delicious meals and refreshing beverages at the hotel's dining venues.
Don't wait any longer to start planning your fun team building program in Pattaya. Contact us now to learn more about our packages and start creating a memorable and effective team building experience for your employees!